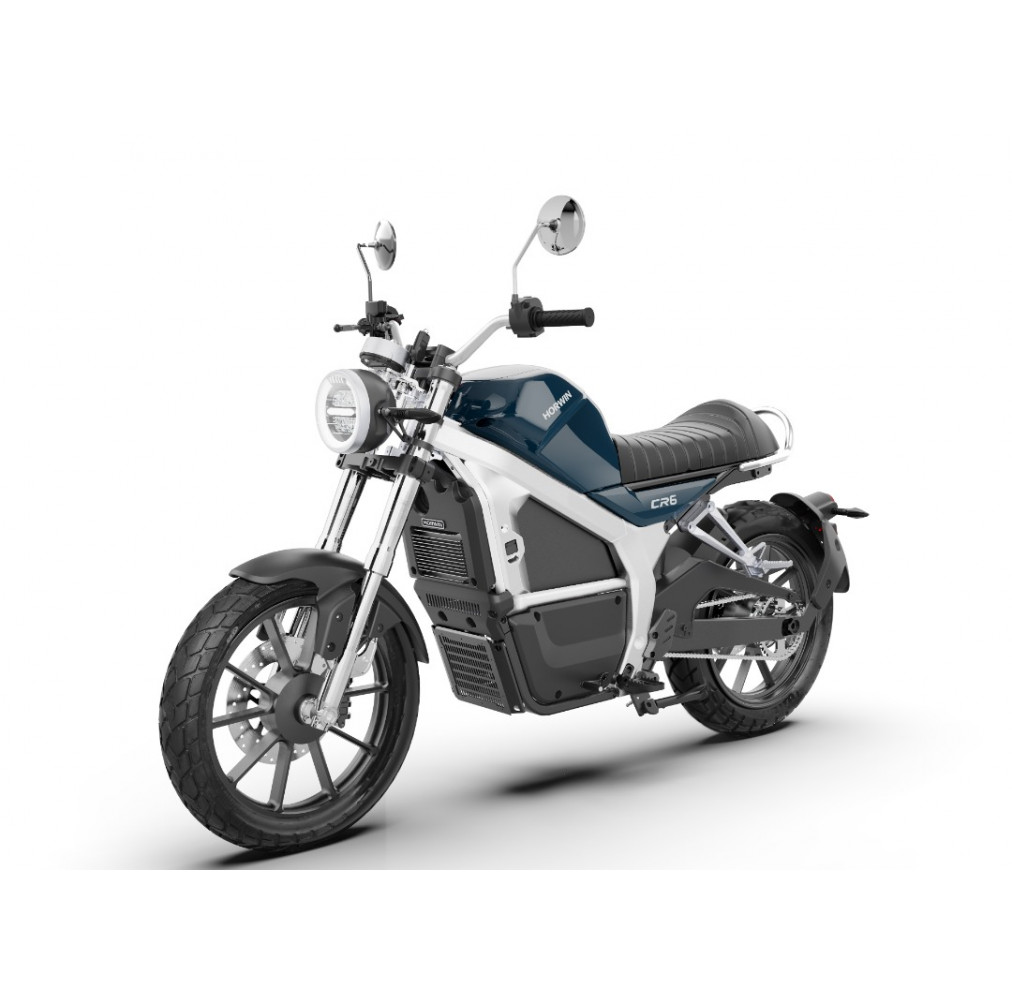  
Horwin CR6
Tax included
Get €1,000.00 back with premium
Actual price including VAT : €4,990.00
Deposit of €350.00 must be paid when ordering
The CR6 is the flagship electric motorcycle from the Austrian brand, Horwin. This 125cc motorcycle equivalent, expresses a neo-retro style with all modern day technology.
The relentless level of finish meets the brand's demands.
The CR6 uses one of the most modern lithium-ion battery packs available. The 55 Ah battery is charged in 3 hours from 0 to 80% and offers a range of up to 150 kilometers. With revolutionary charging technology, you have enough charge in 20 minutes to cover a distance of 20-30 km. The dynamic charging process protects the cells as much as possible in order to achieve the corresponding performance values ​​after many years.
Charging is simplified thanks to the spiral cable provided for connection to a simple 220v household socket and the rapid charger integrated within the motorcycle
On the safety side, the CBS brake system distributes the braking force between the front and rear brake discs, reducing stopping distance and ensuring safe braking at high speeds. Responsive brakes allow extremely precise handling in and around bends, even in wet conditions. 265mm perforated front brake disc and 220mm perforated rear brake disc ensure safe and efficient braking in all conditions.
Data sheet
Engine

Horwin

Maximum speed

95 km/h

Max power

6200 Watt

Max Torque

260 Nm

Battery Type

Lithium-Ion

Battery power

72 V / 55AH

Charging time

3 h 0-80%

Range

150 km

Wheelbase

2040 x 770 x 1120 mm

Seat height

870 mm

Net Weight

134 kg

Drive

Belt driven central engine

Braking

Front & Rear disc brake + CBS system

Prime éco

1000